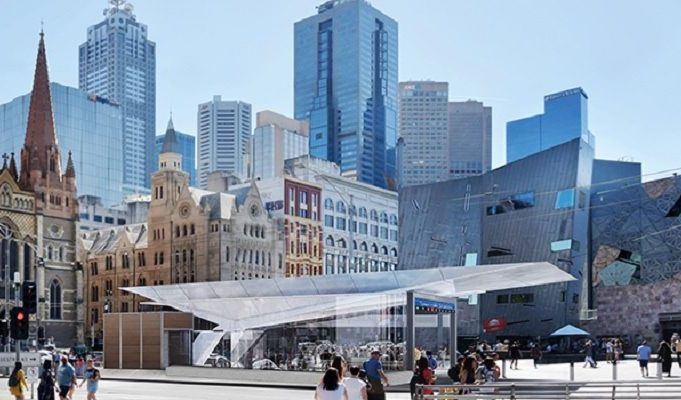 3 May 2019
Melbourne's Town Hall station taking shape
Piling is underway within the worksite at Federation Square in central Melbourne, as part of the construction of the new Town Hall station for the Metro Tunnel project.
Victorian premier Daniel Andrews said the station which will one day connect people to Flinders Street, Federation Square and the rest of the rail network through the Metro Tunnel was finally taking shape.
"This is the biggest public transport ever build in Victoria," he said, "and it will benefit Victorians every single day."
Piling works are designed to strengthen the ground before excavation at the site can begin, creating one of the three entrances for Town Hall station.
Once piling works are complete, an acoustic shed 13 metres wide, 40 metres long and 18 metres high will be built over the site.
"We thank passengers for their patience as we get on with this vital work that will free up space in the City Loop to run more trains, more often across Melbourne," Victorian transport infrastructure minister Jacinta Allan said.
Transport for Victoria has warned commuters of a range of rail and road disruptions in May, as a result of major Metro Tunnel and level crossing removal works.
Buses will replace trains on the Sandringham line from May 21 to June 9, as work ramps up on the Metro Tunnel's future eastern entrance.
Work on the Frankston line ahead of the removal of level crossings and construction of the new Carrum station later this year will see buses replace trains between Frankston and Mordialloc from May 24 to May 26.
________________________________________________________________________________
This article is from Rail Express, Written by Oliver Probert. Click here to view the
original article